The Invisible Disc
The original invisible disc providing strong adhesion to glazed and unglazed surfaces. Tested and proven over 30 years. It is essential to follow the 'how to' instructions for fail proof displays.
Product Details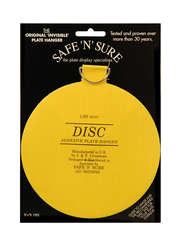 Model No.
SnS 101 - 30mm for 12cm Plates. Max 500g
SnS 102 - 50mm for 18cm Plates. Max 1kg
SnS 103 - 75mm for 24cm Plates. Max 1.5kg
SnS 104 - 100mm for 30cm Plates. Max 2.5kg
SnS 105 - 140mm for up to 3kg Plates.